China and Australia continue to dominate the international visitor market to Bali as illustrated in the graph below. While the number of Chinese visitors fell 1.8% from 1,385,850 in 2017 to 1,361,512 in 2018, the Chinese market accounted for 22.4% of all international visitors in 2018. The Australian market, which was eclipsed by China as the largest inbound market in 2017, grew by 6.8% in 2018 to 1,169,215. Its share accounted for 19.3% of all international visitors to Bali in 2018.
The other major markets for Bali included India (5.8%), U.K (4.5%), Japan (4.3%), USA (3.9%), France (3.2%), Malaysia (3.2%) Germany (3.1%) and Singapore (2.4%). The Indian market, which has catapulted into third place behind China and Australia, is emerging as a major source market for Bali. The Indian inbound market grew by 29.7% in 2018 as a result of a new direct flight from Mumbai to Denpasar. The market has witnessed a CAGR of 40.5% since 2013.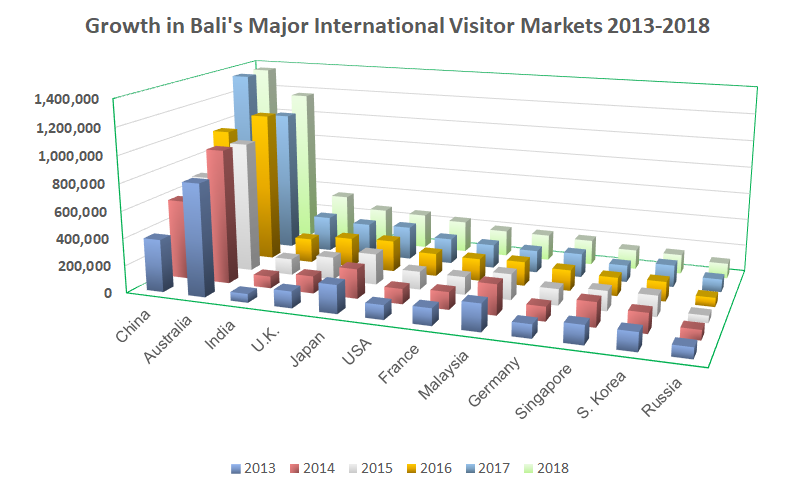 Meanwhile, the occupancy rates of star rated hotels in Bali grew to 65.1% in 2018, up 2.2 percentage points from 62.9% in 2017. Four star hotels led the way with an average occupancy of 70.2%, up 5 percentage points from 65.2% in 2017. Star rated hotels in Bandung Regency, which includes popular centers of Kuta, Legian, Seminyak, Jimbaran, Nusa Dua, Canggu, and Uluwatu recorded an average occupancy of 67.6%, up 0.9 percentage points on 2016.
In all, the total number of international visitors to Bali grew by 6.5% in 2018, from 5.7 million visitors in 2017 to 6.1 million in 2018, falling short of the Bali Tourism Board's target of 6.5 million international visitors.
With six months of actual data for 2018, we forecasted 6,115,393 international visitors for 2018. The official figure was 6,070,473, so we overestimated by 0.7%. Our forecasts represent the most likely outcomes given past trends and current information. As with all forecasts, any variations in the assumptions or any disruptive events could produce risks that may drive forecasts either upward or downward. For this reason, we have introduced confidence limits with our forecasts.
The significant growth in international tourist arrivals will continue due to Bali's proximity to major Asia Pacific markets, visa-free travel from many major source markets, growing air transport connectivity and the governments aggressive marketing campaigns highlighting the island's range of attractions. The island has made the most of its globally recognized natural and cultural resources at very affordable prices. In summary:
1.7 million visitors in 2007, 6.1 million in 2018, falls short of the official target of 6.5 million, annual growth of 12.5%
7.5 million international visitors in 2020, 23.4% on 2018, 25% probability greater than 10 million, annual growth of 11.1%
Historical & Forecast International Visitor Arrivals to Bali, 1992-2020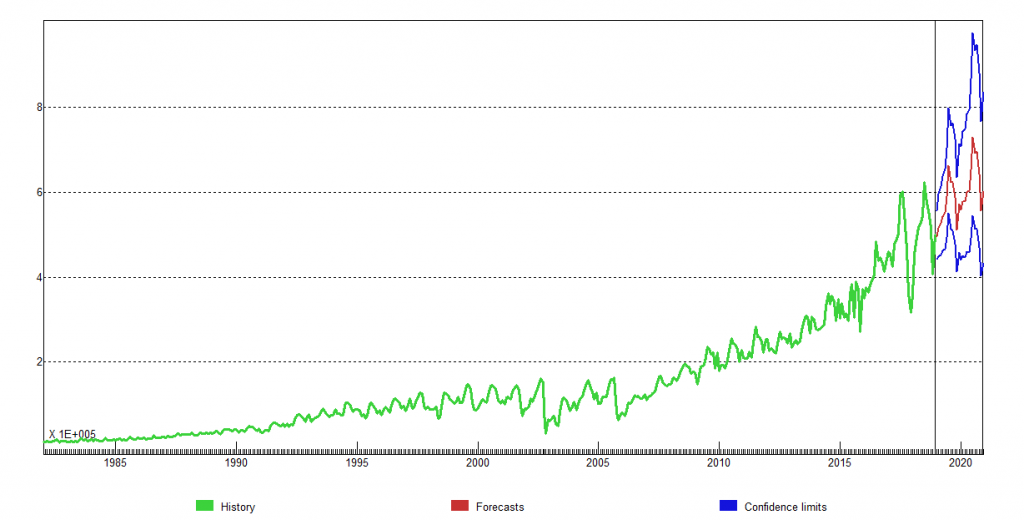 Please feel free to download a complimentary copy of our report, "Short-Term Forecasts of Visitor Arrivals in Bali, 2018-2020", which will be updated in the next couple of months.