We are pleased to provide this brief executive summary of our report titled "Short-Term Forecasts of Visitor Arrivals in Indonesia, 2018-2020." The full report can be downloaded at the end of the post. Subscribers to the report will receive a complimentary update of our forecasts of inbound tourist arrivals to Indonesia every six months.
Executive Summary
Indonesia's tourism industry benefits from one of the fastest growing inbound international visitor markets in the world. With the exponential growth in tourism, it is important that the demand for the country's tourism product grows in alignment with the facilities available in a sustainable way. Clear strategies are required to cater not just to the economic aspects of tourism, but to the environmental and social effects as well. Well-targeted advice is also needed to inform future planning and investment decisions.
Our forecasts support these goals by providing hotel investors, developers, managers, marketers, policymakers, and planners with short-term forecasts for:
Inbound international arrivals, focusing on Indonesia's main source markets, such as Malaysia (15.1%), China (14.9%), Singapore (11.1%) and Australia (9%), and
Occupancy rates for 3, 4 and 5-star hotels, a critical metric for the performance of hotels and other types of accommodation.
Results from our forecasts show:
• Over the next three years, total inbound international visitor arrivals to Indonesia are expected to increase by 31%, from 14 million in 2017 to 18.5 million in 2020
• Between 2017 and 2020 inbound visitor arrivals from ASEAN countries are expected to grow by 53% from 4.5 million in 2017 to 6.9 million in 2020
• Over the next three years, total visitor numbers from Asia (excluding ASEAN) are expected to increase by 59% from 5.1 million in 2017 to 8.2 million in 2020
• Despite the significant growth of inbound visitors from China, Malaysia will remain Indonesia's largest international source market for the foreseeable future.
Our Forecasts
Our forecasts represent the most likely outcomes given past trends and current information. As with all forecasts, any variations in the assumptions or any disruptive events could produce risks that may drive forecasts either upward or downward. For this reason, we have introduced confidence limits with our forecasts.
International Visitor Arrivals to Indonesia 1980-2020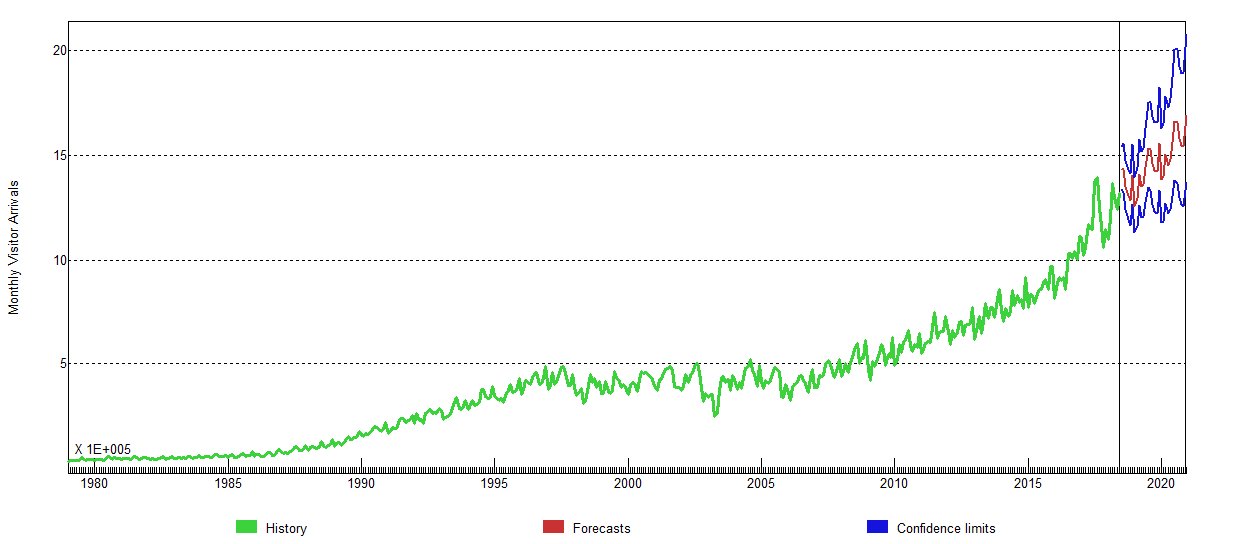 The significant growth in international tourist arrivals will continue due to Indonesia's proximity to major Asia Pacific markets, visa-free travel from many major source markets, growing air transport connectivity and the governments aggressive marketing campaigns highlighting the country's range of attractions. Indonesia has made the most of its globally recognized natural and cultural resources at very affordable prices.
In summary:
5.5 million visitors in 2007, 14 million in 2017, annual growth of 9.8%
15.7 million international visitors in 2018, short of government's target of 17 million, 18.5 million international visitors in 2020, 31% on 2017, 25% probability greater than 22.2 million, 25% probability less than 15.3 million, annual growth of 9.6%
Growth in Inbound International Visitor Arrivals from Malaysia, China and Singapore  2007-2020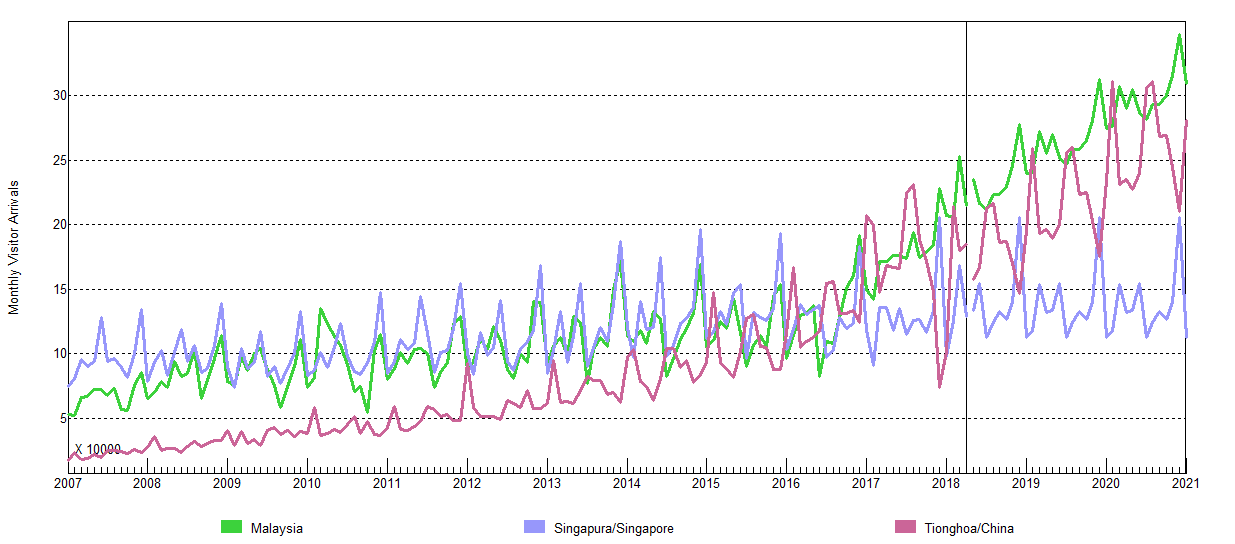 Asia Pacific region currently accounts for 79.4% of international visitor arrivals, Europe 14.1%, America 3.8% and other countries including the Middle East 2.7%. Top generating countries for 2017 were Malaysia 15.1%, China 14.9%, Singapore 11.1%, Australia 9%, Japan 4.1%, India 3.8%, South Korea 3%, United Kingdom 2.7%, USA 2.5%, Philippines 2.2%, France 2% and Germany 1.9%.
The occupancy of star-rated hotels has continued its upward climb following three distinct phases over the past twelve years. Monthly occupancies averaged 46.9% for 2006-2010, 52.3% for 2011-2015 and 55.4% for 2016-YTD 2018. The highest annual occupancy recorded was 56.6% in 2017, up from 54.3% in 2016. Forecast average occupancies are 57.2% in 2018, 58.6% in 2019 and 60% in 2020.
Average Monthly Occupancy for Star-Rated Hotels in Indonesia, 2006-2020
Please subscribe to our mailing list and download your complimentary copy of our report, "Short-Term Forecasts of Visitor Arrivals in Indonesia, 2018-2020" after you have received a confirmation thank you email!