According to the latest Banking Survey1 (4Q 2018) conducted by Bank Indonesia, the weighted net balance (WNB) of new loans for the accommodation and food & beverage sectors jumped to almost 60% in the final quarter of 2018, the highest it has been since 4Q2011 when it reached 64.3% as illustrated in the graph below. At the same time the WNB for all loan types climbed from 21.2% in 3Q 2018 to 71.1% in 4Q 2018.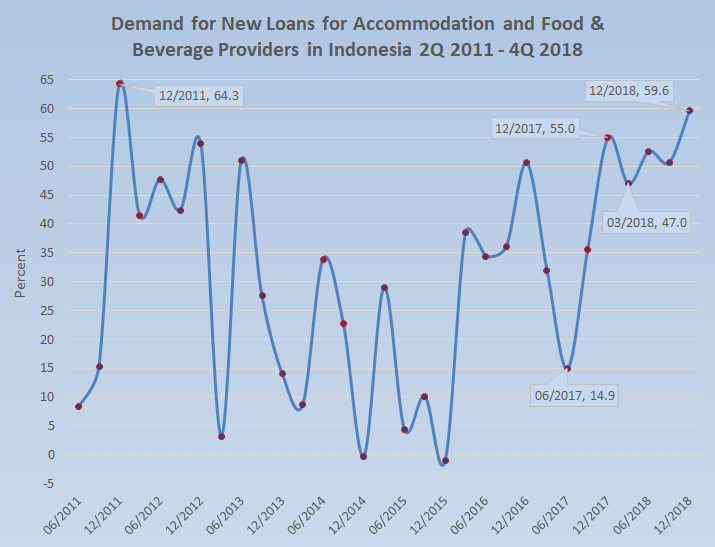 The uptick affected all loan types, including working capital and investment loans. Respondents to the survey predicted new loan growth in 2019 at 12.2% (YOY), down slightly from 12.3% (YOY) recorded in November 2018. This augers well for the accommodation and food & beverage sectors in 2019 and 2020.
The banking industry is upbeat that solid domestic economic fundamentals, low credit risk and a higher capital adequacy ratio will be a major catalyst for growth in new loans in 2019.
_________________________________________________________________________________

1Objective
The Banking Survey (previously the Bank Loan Survey) is designed to obtain preliminary information about banking policies in disbursement of credit, funding and setting interest rates, the supply and demand of new loans as well as to collate comprehensive banking information that is unavailable through the Monthly Report of Commercial Banks (LBU), terms of loan distribution, funding, and interest rates determination. It also maintains statistics on the demand of outstanding or newly loan offer and covers other pertinent information on the banking sector that are unavailable in the Commercial Banks Monthly report.
Methodology
The sample is selected using purposive sampling of 42 commercial banks with head office in Jakarta and a credit share accounting for around 80% of the national total. Data is processed using the net weighted balance method, namely that the answers provided by respondents are multiplied by their respective credit weighting (totaling 100%), with all the difference between the percentage of respondents whose answers increased an those whose decreased subsequently calculated.
Scope
The Bank Loan Survey is a quarterly survey conducted since the third quarter of 1999 to the selected banks whose dominant share to the national credit value extended.
.