Making detailed projections about the timing and nature of the recovery of foreign visitors to Indonesia might seem like a fool's errand at this stage of the COVID-19 pandemic.
Despite the unprecedented levels of uncertainty and the serious limits of predictability we have used our econometric forecasts of international visitor arrivals from Indonesia's major source markets of Asia Pacific, Europe, Americas and the Middle East to derive total visitor forecasts for the period, 2020 to 2025.
Our forecasts include prediction intervals; a range of values and the probability that the range will enclose the actual outcome. Beware of forecasts that are presented in the form of a single number (point forecasts) at this time! They speak to the sometimes disastrous consequences of our illusion of control – believing that accurate forecasting is possible.
We forecast that international visitors to Indonesia will fall by about 38%, from 16.1 million in 2019 to 10 million in 2020. There is a 60% probability that the number of international visitors will fall between 8.5 million and 11.6 million in 2020. It will not be until 2023 that the record of 16.1 million international visitors in 2019 will be surpassed.
Our mean forecasts for international visitors are 12.8 million (2021), 15 million (2022) and 16.4 million (2023).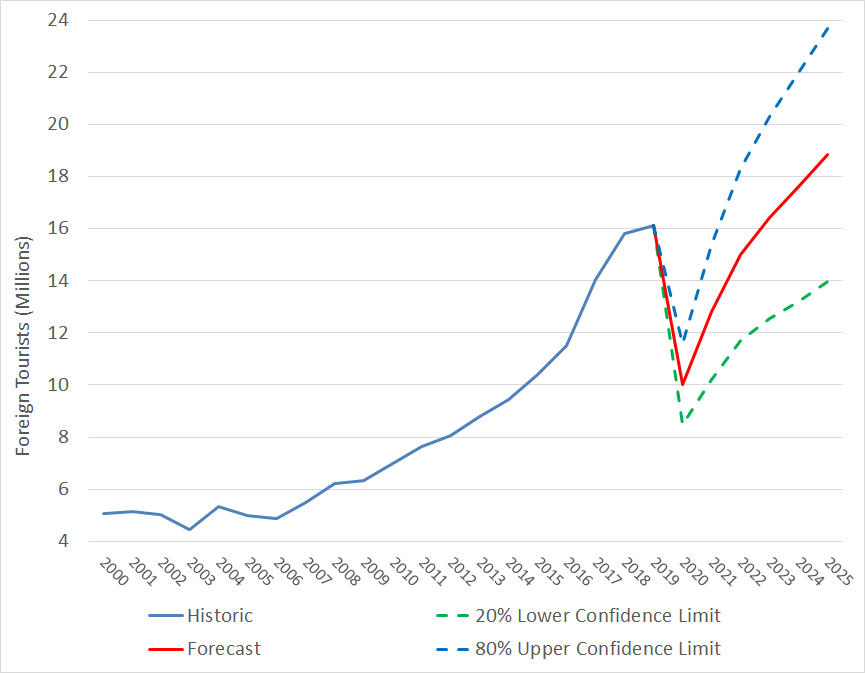 We plan to update our forecasts every three months as new economic data becomes available for Indonesia and its major source markets. Our goal is not to produce 100% accurate forecasts – that is nearly impossible, given all that has happened and is likely to happen.
Our goal is to try to get our forecasts in the ballpark, good enough to help our clients make better decisions. Clients can then plan and manage their businesses effectively, and not waste resources doing it. Please contact us if you believe we can assist you with your forecasting needs.