Long considered a high barrier-to-entry1 hotel market, Manhattan has witnessed an explosion in new hotel room supply since 2008, growing at 4.6% CAGR, which compares with a room supply CAGR of 1.1% for the period 1987 to 2007. As of May 2019, another 56 hotels were in the pipeline for Manhattan, according to NYC & Company. Clearly, Manhattan isn't as much a high barrier-to-entry market as everyone thinks.
It seems it was only yesterday that hotel investors were claiming that Manhattan's high barriers-to-entry were keeping new properties out and existing hotel values high as the burgeoning economy and overflowing New York City market continued to push demand far beyond supply everywhere from Long Beach to Montauk Point! How times fly!
With significant increases in room supply continuing in the first quarter of 2019, key hotel performance indicators for Manhattan continued to decline. RevPAR declined by 7.7% for the first quarter driven by a 3.6% decline in occupancy and a 4.3% decline in ADR. No class of hotel or neighborhood was spared during the quarter. Luxury hotels, which have outperformed all other types of hotels over the past three years, experienced the sharpest drop in RevPAR of 10.2%, driven mostly by a 7.7% drop in occupancy and a 2.8% decline in ADR.
Over the past three years, 2015 to 2018 Upper Manhattan hotels have outperformed other neighborhood markets as illustrated in the graph below. The hotels experienced a 3.7% increase in occupancy, a 2.2% increase in ADR and a 4.7% increase in RevPAR. All of the other neighbor hood hotels witnessed little growth in occupancy and declines in ADR.
Growth in Occupancy & ADR for Manhattan's Hotels by Neighborhood 2015-2018
In the same vein, Luxury hotels have outperformed all the other classes of hotels with a 2.2% increase in occupancy, a 5.5% increase in ADR resulting in a 7.9% increase in RevPAR. While the Upscale and Upper Midscale classes saw occupancy increases of 3% and 2.9% respectively, both experienced declines in ADR of 2.9% and 3.7% respectively. Are the Luxury hotels, that have held steady against the general decline in hotel performance across Manhattan in the immediate past, able to continue their leadership role? Only time will tell, but it seems that Luxury hotels in Upper Manhattan may have a better chance of weathering the storm.
Growth in Occupancy & ADR for Manhattan's Hotels By Class 2015-2018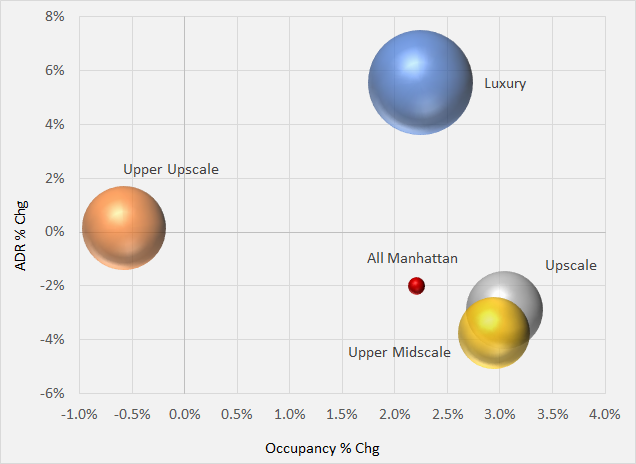 Despite the slump in luxury RevPAR of 10.2% in the first quarter of 2019, we forecast a RevPAR decline of 3.1% in 2019 and growth of 3.6% in 2020.
Historical & Forecast RevPAR for Manhattan's Luxury Hotels 2015-2020

We forecast that RevPAR for Upper Manhattan hotels will decline by 1.4% in 2019 and remain constant in 2020.
Historical & Forecast RevPAR for Upper Manhattan Hotels 2015-2020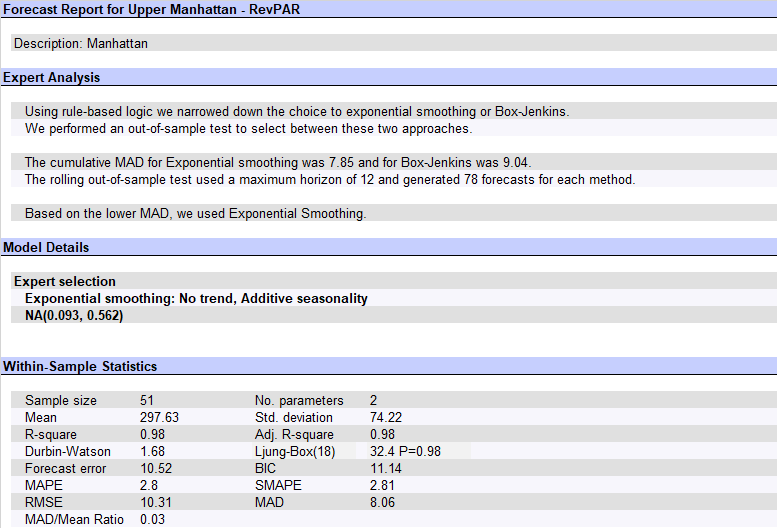 Midtown East hotels have been the laggards over the past three years. We expect RevPAR to decline by 3.7% in 2019 but reverse in 2020 growing by 5.5%.
Historical & Forecast RevPAR for Midtown East Hotels 2015-2020

---
Barriers to entry are the economic term describing the existence of high start-up costs or other obstacles that prevent new hotels from easily entering a market. Barriers to entry benefit existing hotels because they protect their revenues and profit. Common barriers to entry generally fall into three categories, though some overlap among the categories is common: legal, geographic and political.