The Indonesian tourism industry has grown rapidly over the past couple of years. Rising foreign tourist spending experienced a CAGR of about 16% over 2011-2017 compared to a CAGR of 8% for domestic tourist spending. The number of foreign tourists grew 12.6% from 14.04 million in 2017 to 15.81 million in 2018.
While Malaysia accounted for 2.12 million visitors to Indonesia in 2017 or 15.1% of the total number of visitors to the country, it was the source of 8.5% of total foreign expenditure as illustrated below. China accounted for 14.9% of foreign arrivals and 17.9% of foreign expenditure in 2017 compared to Singapore which accounted for 11.1% of foreign tourists and 6.4% of foreign expenditure.
After the Chinese, Australia has the second largest impact on foreign tourism expenditure accounting for 14.7% of total foreign expenditure in 2017. It accounted for 1.26 million tourists or 8.9% of total foreign tourists in 2017. Until recently, Australia was the largest source of foreign tourism expenditure in Indonesia, but it has been overtaken by China in recent years.
Origin of Foreign Tourism Expenditure in Indonesia by Largest Source Markets, 2017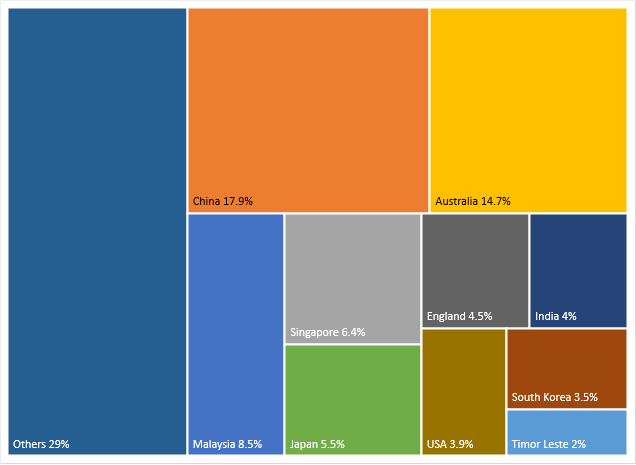 Accommodation, which includes hotels and villas, was the main beneficiary of foreign tourism expenditure capturing 40.1% in 2017 as illustrated in the graph below. In contrast, Indonesia's hotel sector captured only 6.4% of domestic tourism expenditure in 2017. See our earlier post on the origin, destination and structure of domestic tourism expenditure in Indonesia. Restaurants were the next major beneficiary capturing 18.1%, followed by air transportation (8.7%), highway transportation (7.3%) and shopping at 6.9%.
The Structure of Foreign Tourism Expenditure in Indonesia, 2017
Indonesia's close proximity to rapidly growing Asia Pacific economies augurs well for continued growth in visitor arrivals and tourist expenditure. Indonesia is a well established tourist destination for visitors from Singapore and Australia.
With new air connections between Indonesia and China and Indonesia and India, tourist arrivals from these two new source markets is likely to change the compositions of foreign tourism expenditure in Indonesia in the near future.